0 Reviews
raiting star
raiting star
raiting star
raiting star
raiting star
Be the first to review this product.
Elegoo Mars 2 Pro 3D Printer
Faster printing speed: Mars Pro 2 3D printer comes with a 6 inch 2K Monochrome LCD with an HD resolution of 1620 x 2560, reducing the layer printing time yet still delivering outstanding results.
Larger build volume: The Mars Pro 2 has a large printing volume of 130.56mm(L) x 82.62mm(W) x 160mm(H) 5.14in(L) x 3.25in(W) x 6.30in(H) for the same Printer size than the Mars Pro
Compatible with the Mars and Mars Pro VAT: The Mars Pro 2 uses the same Metal and Plastic VAT and FEP release films as the Mars and Mars Pro 2. so expanding your Mars Family has never been easier
Higher Precision and Excellent Performance Z-axis utilise linear guide rail structure, which can achieve steadier motion and greatly enhanced moving accuracy to reduce the layer lines on the 3D printed model and make the surface much smoother. The set screws of the build plate are now upgraded to larger anti-slip hexagon socket screws, which have a more stable levelling result. In addition, CNC turning CD pattern on the build plate provides a much stronger adherence, especially when printing large 3D models. 
Refreshing and Safer Experience Mars Pro 2 comes with a silicone rubber seal that can be used on the cover to prevent the resin odour from leaking and keep them inside the cover. Built-in activated carbon can absorb and filter the resin odour before ventilating throughout the cooling fan, which gives you a refreshing and safer user experience.  
Lighter, Larger and Easier Remodelled resin vat made of aluminium alloy is now 100gram lighter yet 100ml larger in capacity. The USB port is relocated to the front for your convenience of connectivity. Mars Pro uses a new user interface with a dark theme and a simple design. 
Warranty and Privilege We provide a 1-year warranty on the whole printer and a 6-month warranty for the 2K LCD (FEP film is excluded). Parts and replacements will be shipped from the overseas warehouse to offer you quality and fast customer service. Mars Pro also comes with a Myminifactory Membership Card, which gives you a privilege to millions of created 3D objects to start your first printing on Mars Pro.  
Specification:
System: EL3D-3.0.2
Operation: 3.5 Inch Touch Screen
Slicer Software: Chitu Box
Connectivity: USB
Technology: LCD UV Photo curing
Light source: UV Integrated lights(wavelength 405nm)
XY Resolution: 0.05mm(2560*1440)
Z Axis Accuracy: 0.00125mm
Layer Thickness: 0.01-0.2mm
Printing Speed: 30-50mm/h
Power Requirements: 110-220V 50/60Hz   12V6A 72W
Printer Dimensions: 7.87in(L) x 7.87in(W) x 16.14in(H)     20cm(L) x 20cm(W) x 41cm(H)
Build Volume: 5.14(L) x 3.25in(W) x 6.30in(H)     13.056cm(L) x 8.262cm(W) x 16cm(H)
Finish Kit includes:
Mars Pro 3D Printer x 1
Build Platform x 1
Resin Tank x 1
USB Disk x 1
To be Confirmed
Mask x 2
Glove x 3
Metal Scraper x 1
Plastic Scraper x 1
User Instruction x 1
Funnel x 10
Measuring Cup x 1
Backup Screws x 1
UL Adapter x 1
Tool Kit x 1
Or 6 Weekly Interest Free Payments From
£45.83
with
Recommend this product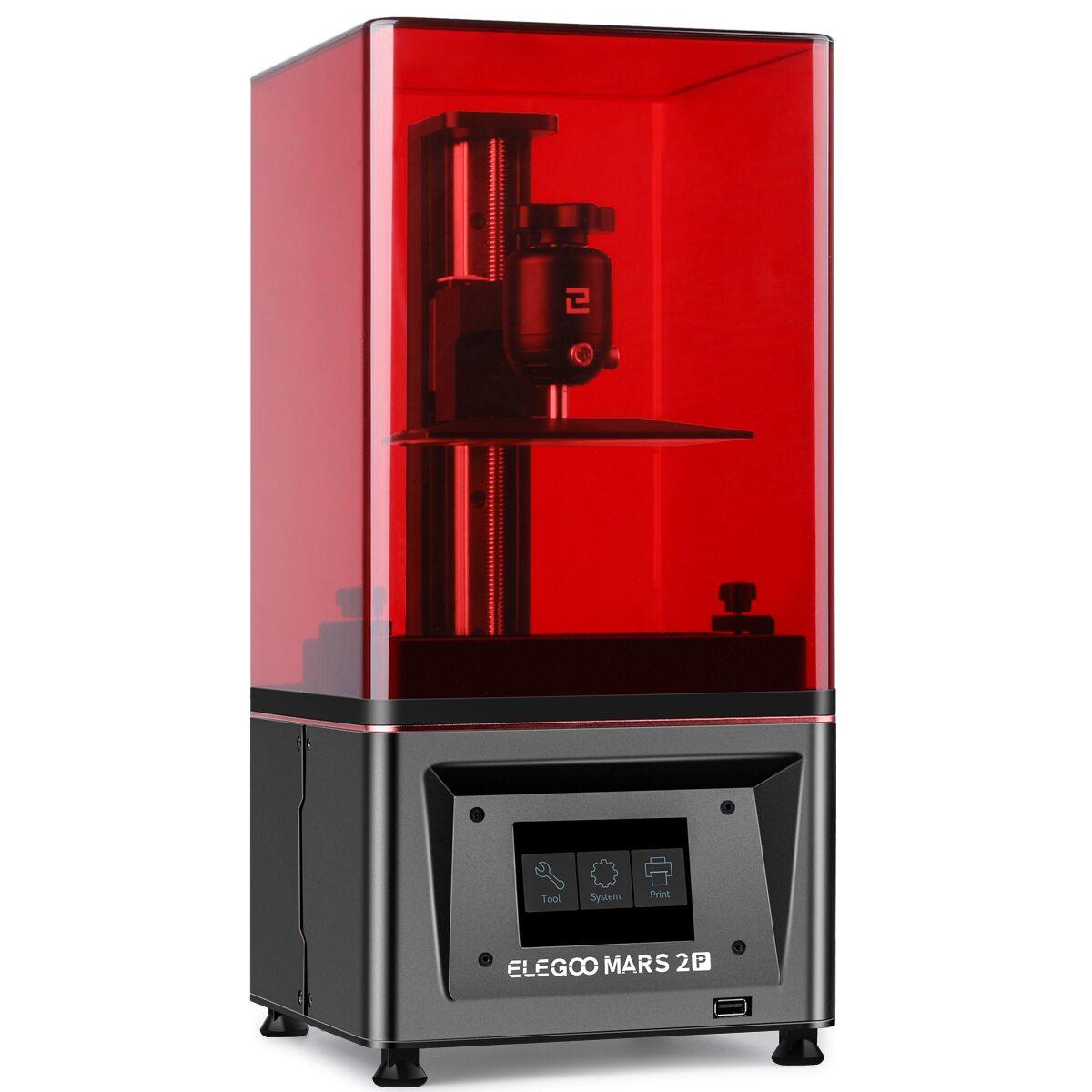 Elegoo Mars 2 Pro 3D Printer