0 Reviews
raiting star
raiting star
raiting star
raiting star
raiting star
Be the first to review this product.
Elegoo Mars 2 Reconditioned 3D Printer
Note: this is a reconditioned 3D printer and not a brand new 3D printer. It might arrive with unmatched packaging, and some marks and scratches on it. these will not affect operation or performance. 
We have 3 Grades of condition of 3D printer, and their prices reflect this. The will all come tested and working with Power supply, Lid, build Plate, vat and a usable FEP attached, unless specified. we strive to make all printers Grade A, but sometimes its not possible. 
Grade A - Printer is "As New" Condition. New LCD Screen and FEP Sheet or VAT. Build plate in good condition possibly with some minor marks from use, and minor marks on the UV Lid and printer itself. Tools and a USB in the box. 
Grade B - Printer in "Used" condition. Minor Marks on LCD Screen, FEP and build plate, that should not affect operation, marks on lid and printer. No Tools or USB Included as standard, but may be in the box.
Grade C - Printer in "Very Used" condition. Marks on the screen and Build Plate. Lid and Printer case has signs of heavy use. No FEP on the VAT (But VAT included) no tools or USB included. 
Fast Printing and less maintenance Mars 2 comes with a 6.08 inch Monochrome LCD of 2K HD resolution and only takes 2 seconds per layer exposure to cure resin, which could significantly enhance your printing efficiency. Mono LCD has a much longer lifespan and stable performance during long term printing, thus saves your cost. 
Outstanding prints and ultra accuracy Brand new light source structure provides more even UV light emission and working together with 2K Mono LCD, the printing details and precision are greatly improved and the 3D printed models are fascinating.
Sturdy build quality CNC machined aluminium body makes Mars 2 a very formidable machine. Newly-designed sandblasted build plate has a much stronger adherence during printing and enables consistent printing success.
Multi language interface Mars 2 now supports 12 kinds of languages so customers across the world could operate the 3D printer more conveniently without barriers. The newly added 10 languages are Japanese, Dutch, Korean, French, German, Russian, Italian, Spanish, Turkish and Portuguese.
Warranty and Service We provide a 1-year warranty on the whole printer and 6-month warranty for the 2K LCD (FEP film is excluded).
ELEGOO Mars 2 MSLA 3D Printer is ELEGOO 6.08 inch LCD 3D Printer that uses Monochrome LCD and COB UV light source. It has 50m XY precision and high printing speed at 1.5-2s/layer. Finish Kit Includes:
Resin Tank * 1
Build Platform * 1
U Disk(2 GB) * 1
Or 6 Weekly Interest Free Payments From
£21.67
with
Recommend this product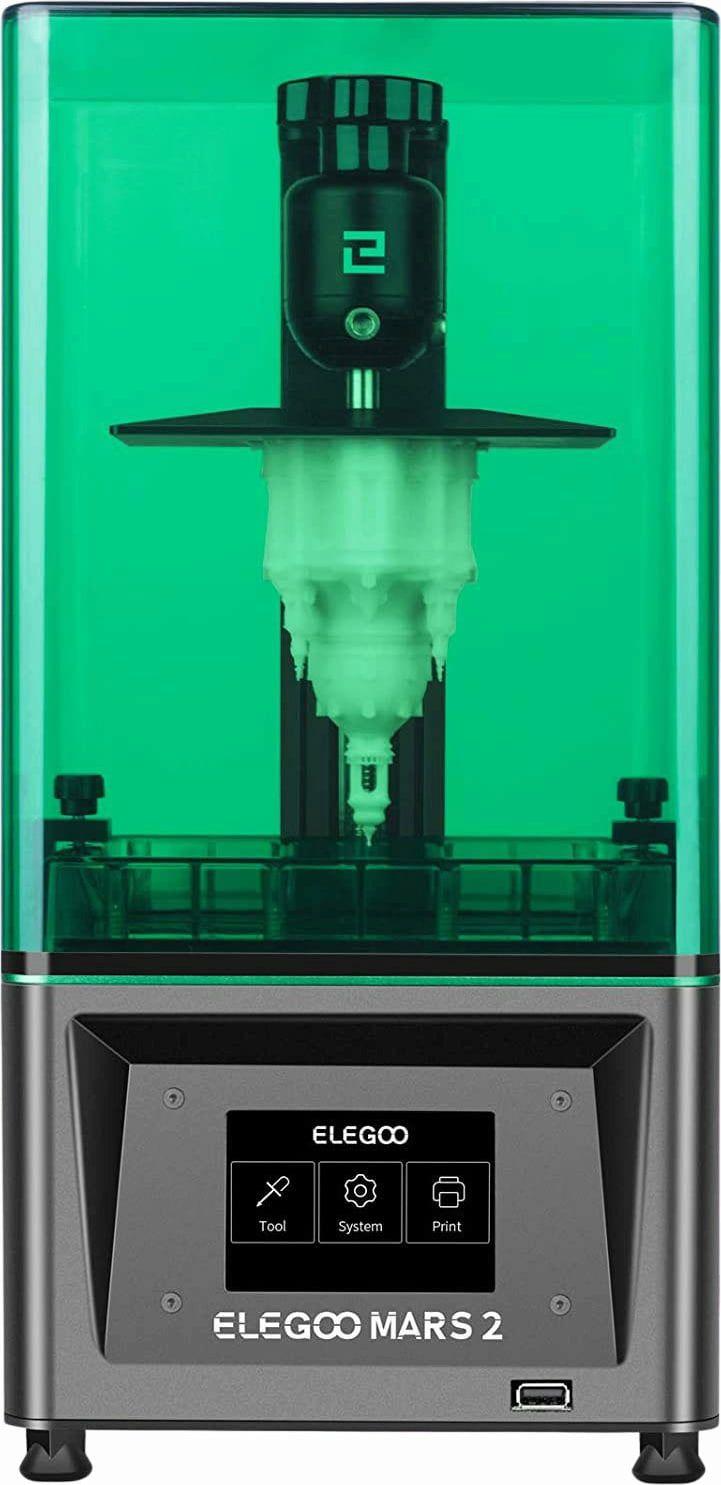 Elegoo Mars 2 Reconditioned 3D Printer