0 Reviews
raiting star
raiting star
raiting star
raiting star
raiting star
Be the first to review this product.
Elegoo Mars 3 Reconditioned 3D Printer
Note: this is a reconditioned 3D printer and not a brand new 3D printer. It might arrive with unmatched packaging, and some marks and scratches on it. these will not affect operation or performance. 
We have 3 Grades of condition of 3D printer, and their prices reflect this. The will all come tested and working with Power supply, Lid, build Plate, vat and a usable FEP attached, unless specified. we strive to make all printers Grade A, but sometimes its not possible. 
Grade A - Printer is "As New" Condition. New LCD Screen and FEP Sheet or VAT. Build plate in good condition possibly with some minor marks from use, and minor marks on the UV Lid and printer itself. Tools and a USB in the box. 
Grade B - Printer in "Used" condition. Minor Marks on LCD Screen, FEP and build plate, that should not affect operation, marks on lid and printer. No Tools or USB Included as standard, but may be in the box.
Grade C - Printer in "Very Used" condition. Marks on the screen and Build Plate. Lid and Printer case has signs of heavy use. No FEP on the VAT (But VAT included) no tools or USB included. 
Excellent Industrial Design Exquisite Appearance, industrial-grade design, panel integration offers convenient and neat steps.
Excellent Printing Accuracy Provides 30% improvement compared to the 2K screen of the Mars 2. In addition, the finished print looks much closer to the model itself.
Small Footprint but Large Printing Size Mars 3 has a large printing volume of 89.6mm*143.36mm*175mm.
Powerful COB Light Source XY resolution: 0.035(4098*2560px); The heat sink system works 50% higher heat dissipation efficiency than ordinary sink. 
Solid Linear Rail and Sandblasted Build Plate Works smoothly and silently; Model sticks firmly and not easy to fall off.
Chitubox Pro Slicer Comes with the Chitubox Pro Slicing Software for FREE one year, no need to pay for it within the period.
We provide a 1-year warranty on the whole printer (4K LCD, FEP film, and tool kit excluded). Replacement parts will be shipped from the overseas warehouse to offer you quality and fast customer service.
Specification:
Operation: 3.5 Inch Touch Screen
Slicer Software: Chitu Box
Connectivity: USB
Technology: LCD UV Photo curing
Light source: UV Integrated lights(wavelength 405nm)
XY Resolution: 0.035mm(4098*2560px)
Z Axis Accuracy: 0.00125mm
Layer Thickness: 0.01-0.2mm
Printing Speed: 30-50mm/h
Power Requirements: 110-220V 50/60Hz   12V6A 72W
Build Volume: 14.336cm(L) x8.96cm(W) x 17.5cm(H)
Or 6 Weekly Interest Free Payments From
£41.67
with
Recommend this product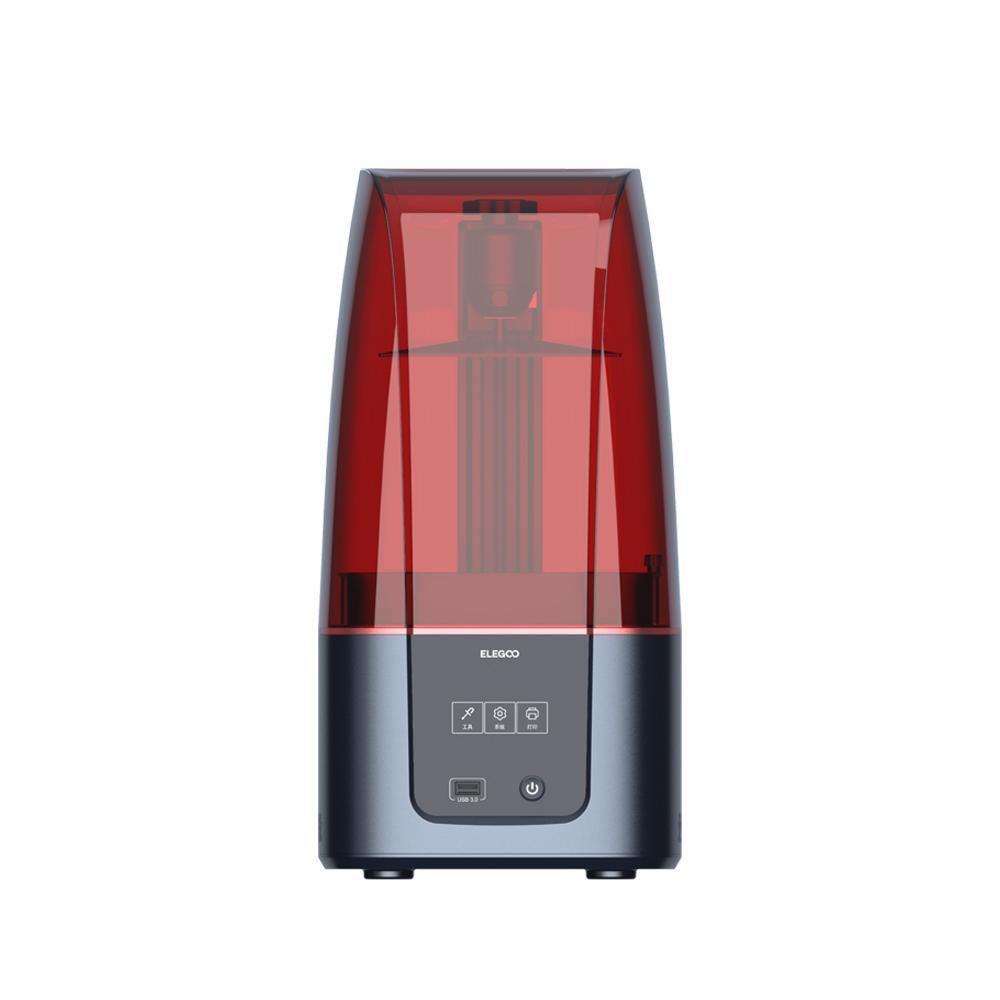 Elegoo Mars 3 Reconditioned 3D Printer