0 Reviews
raiting star
raiting star
raiting star
raiting star
raiting star
Be the first to review this product.
Elegoo Mars Reconditioned 3D Printer
Note: this is a reconditioned 3D printer and not a brand new 3D printer. It might arrive with unmatched packaging, and some marks and scratches on it. these will not affect operation or performance. 
We have 3 Grades of condition of 3D printer, and their prices reflect this. The will all come tested and working with Power supply, Lid, build Plate, vat and a usable FEP attached, unless specified. we strive to make all printers Grade A, but sometimes its not possible. 
Grade A - Printer is "As New" Condition. New LCD Screen and FEP Sheet or VAT. Build plate in good condition possibly with some minor marks from use, and minor marks on the UV Lid and printer itself. Tools and a USB in the box. 
Grade B - Printer in "Used" condition. Minor Marks on LCD Screen, FEP and build plate, that should not affect operation, marks on lid and printer. No Tools or USB Included as standard, but may be in the box.
Grade C - Printer in "Very Used" condition. Marks on the screen and Build Plate. Lid and Printer case has signs of heavy use. No FEP on the VAT (But VAT included) no tools or USB included. 
Fast Slicing Software ELEGOO Mars comes with the latest version of CHITUBOX Slicing Software which gives you an extraordinary user experience. CHITUBOX takes only 1 minute to slice 30Mb .stl model files while the open-sourced slicing software would take up to 10minutes.
Resin saving and Better Printing CHITUBOX allows you to hollow out your model before slicing which could save your resin dramatically during the photocuring process. Equipped with 40W UV lights and using ELEGOO resin, you can get a better printing result.
Smart and convenient 3.5'' inch colour touch screen equipped with the latest ELEGOO CHITUBOX 5.5 system makes it very easy for off-line printing. The build platform with Steel ball balancing structure inside allows you to start printing within 5 minutes after assembly.
High Precision and Resolution ELEGOO Mars uses a 2560x1440 2K HD masking LCD to provide accurate printing with XY axis resolution of 0.00185inches / 0.047mm
Warranty and Service We provide a total one-year machine warranty (3-month warranty for FEP and 2K LCD consumable parts) and if you have any questions regarding product operation or software please feel free to contact us
Specification:
System: ChiTu L5.5 Series
Operation: 3.5 Inch Touch Screen
Slicer Software: ChiTu DLP Slicer
Connectivity: USB
Printing Technology: LED Display Photocuring
Light Source: UV Integrated Light(wavelength 405nm)
XY Resolution: 0.047mm(2560*1440)
Z-Axis Accuracy: 0.00125mm
Layer Thickness: 0.01-0.2mm
Printing Speed: 22.5mm/h
Power Requirements: 110-220V, 12V5A 60W
Build Volume: 4.72*2.68*6.1 inches


Finish Kit includes:
Mars Pro 3D Printer x 1
Build Platform x 1
Resin Tank x 1
60w Power Adaptor
Or 6 Weekly Interest Free Payments From
£13.00
with
Recommend this product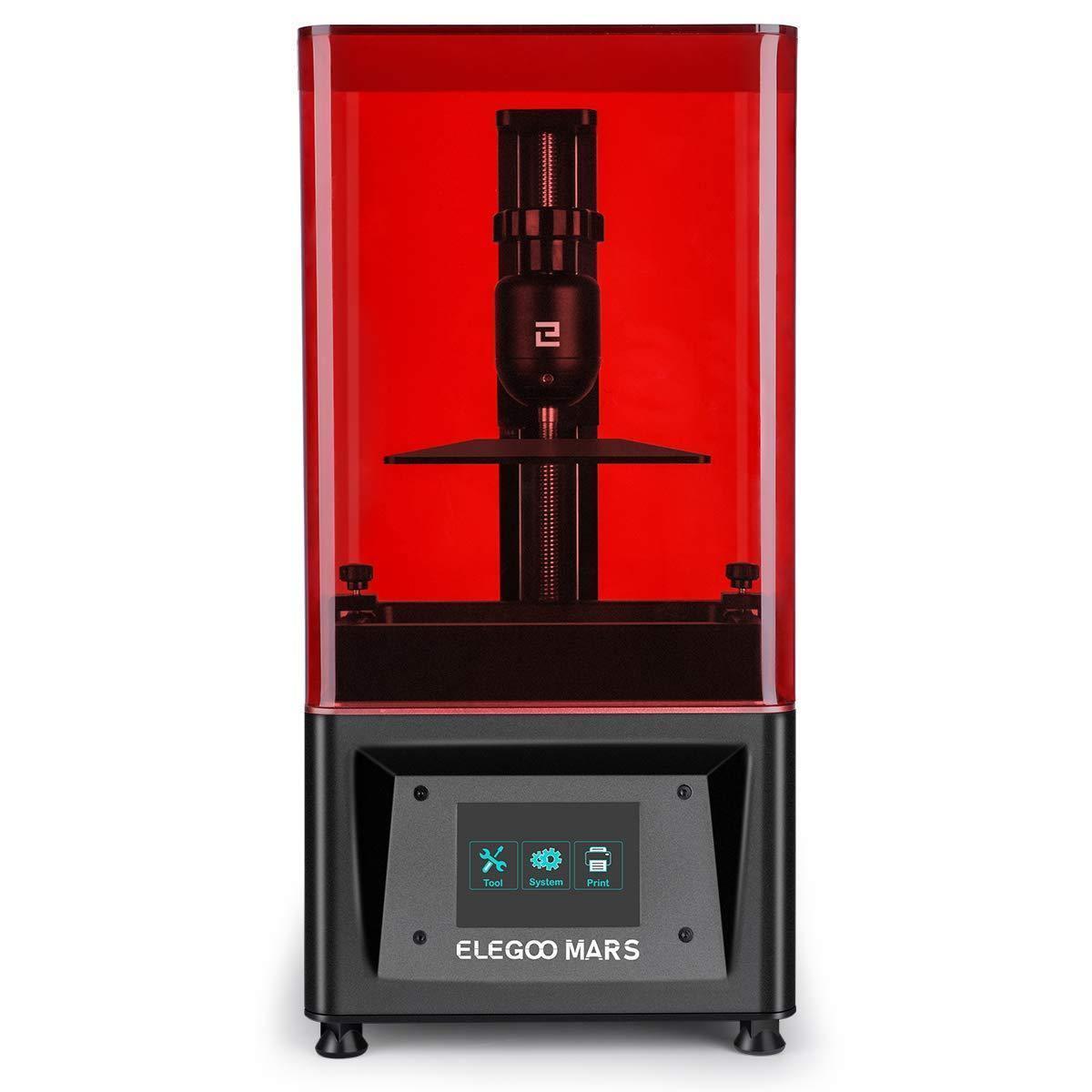 Elegoo Mars Reconditioned 3D Printer