0 Reviews
raiting star
raiting star
raiting star
raiting star
raiting star
Be the first to review this product.
Elegoo Mercury Cure Reconditioned 3D Printer
Note: this is a reconditioned machine and not a brand new machine. It might arrive with unmatched packaging, and some marks and scratches on it. these will not affect operation or performance.
UV curing box
Elegoo Mercury is an easy-to-use UV curing box for curing your resin prints. With 14 UV-LED lights and a rotating platform, your 3D model is evenly cured from all sides.
Light powered platform
The light-driven turntable is able to absorb UV light to rotate without battery.
Smart time setting
The LED time display enables you to easily and conveniently control the curing time. Time settings up to 9 minutes in 30-second steps are possible.
Reflective interior
Inside the UV curing box, a reflective film is built in to focus the lights and achieve a better curing effect.
how to use:
Please clean and dry your finished model after printing
For models with a diameter of less than 30 mm, a curing time of 2 minutes is recommended
If the model turns yellow after curing, adjust the curing time. Over-curing leads to a yellowing effect
The recommended ambient temperature is 0 - 40 ? C
Please do not use the UV curing box for more than 40 minutes to avoid overheating
Or 6 Weekly Interest Free Payments From
£4.17
with
Recommend this product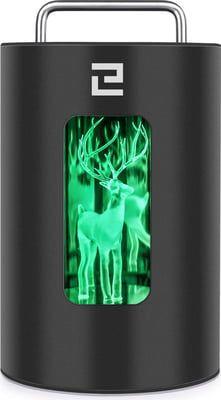 Elegoo Mercury Cure Reconditioned 3D Printer