4 Reviews
raiting star
raiting star
raiting star
raiting star
raiting star
Received 2 months ago from 3D Print monkey. Good communication, had a problem with the delivery address, luckily sorted out quickly and with no problem. Prints well and kept upto date with any information via E-Mail.
raiting star
raiting star
raiting star
raiting star
raiting star
I've been using a filament printer for a number of years now and that has been a reasonably steep learning curve, however with the saturn its been an absolute dream, easy to set up and zero in. the quality of the build is really good and looks great on the dining room table ;) The initial test prints can out superb and the level of detail on 10mm models is insane! The other half isn't best pleased as I've not printed her anything off yet! LOL so if your pondering, don't its great simples as that!
raiting star
raiting star
raiting star
raiting star
raiting star
Deseo adquirir una impresora Elegoo Saturn
raiting star
raiting star
raiting star
raiting star
raiting star
Fantastic Company, Fantastic Printer. So much printer for the money. Arrived within 24 hours of ordering. Full tracking with free postage (within the UK) This is the go to company for all you resin needs and resin printers. All I need now is a bigger room to store my printers in!!
raiting star
raiting star
raiting star
raiting star
raiting star
Elegoo Saturn
Faster printing speed: Saturn 3D printer comes with an 8.9inch 4K Monochrome LCD with an HD resolution of 3840 x 2400, reducing the layer printing time to 1.5s-2s, which is 60% faster than Mars Pro yet still delivers outstanding printing results.
Larger build volume: Saturn has a large printing volume of 192*120*200mm/7.55in*4.72in*7.87in, and you can print multiple full-sized models at the same time, which can dramatically improve your productivity.
Higher precision and easier printing: Z-axis utilises a double linear guide way structure, which can achieve steadier motion and greatly enhanced moving accuracy. With the Ethernet port on the back and 4GB built-in data disk, Saturn now supports file transfer through your local area network, which is very handy for fast printing.
Quality Prints and Consistent Success: Matrix light source consists of 54 UV LED lights with uniform light emission, ensuring superior print results and a more accurate printing size. The set screws on the build plate assure long lasting levelling, no need for frequent calibration, and the sandblasted surface provides a much stronger adherence, especially when printing large 3D models.
Warranty and Privilege: Elegoo provide a 1-year warranty on the whole printer (4K LCD, FEP film, and tool kit excluded). Replacement parts will be shipped from the overseas warehouse to offer you quality and fast customer service. Saturn also comes with a Myminifactory Membership Card, which gives you the privilege to millions of created 3D objects.
Specification:
System: EL3D-3.0.1
Operation: 3.5 Inch Touch Screen
Slicer Software: Chitubox 
Connectivity: USB
Technology: LCD UV Photocuring
Lightsource: UV Integrated LED lights (wavelength 405nm)
XY Resolution: 0.05mm(3840?2400)
Z Axis Accuracy: 0.00125mm
Layer Thickness: 0.01-0.15mm
Printing Speed: 30mm/h
Power Requirements: 110-220V 24V5A 120W
Printer Dimensions: 11.02in (L)  * 9.44in (W) * 17.55in (H)   28cm(L) * 24cm (W) * 44.6cm (H)
Build Volume: 7.55in (L) * 4.72in (W) * 7.87in (H)   192mm (L) * 120mm (W) * 200mm (H)
                                 
What's in the box:
Saturn 3D Printer x 1
Build Platform x 1
Resin Tank x 1
U Disk x 1
Mask x 2
Gloves x 3
Metal Scraper x 1
Plastic Scraper x 1
User Instruction x 1
Funnel x 10
Measuring Cup x 1
Backup Screws x 1
Adapter 120W x 1
Tool Kit x 1
Levelling Paper
Membership Card
Or 6 Weekly Interest Free Payments From
£68.33
with
Recommend this product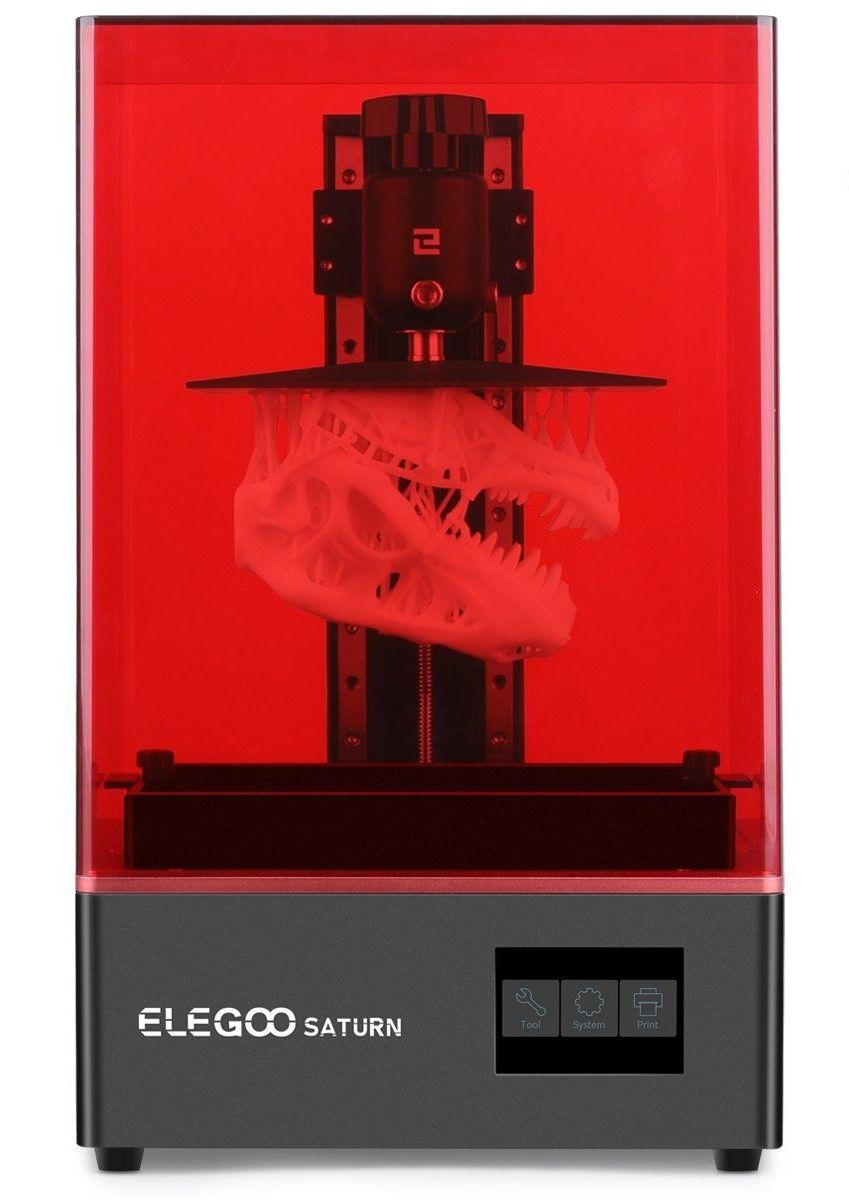 Elegoo Saturn