0 Reviews
raiting star
raiting star
raiting star
raiting star
raiting star
Be the first to review this product.
eSUN High Temp Red 3D Printer resin 405nm 500ml/0.5L
High Temperature Resin Resistance to Long-time Heating at 120 or Boiling at 100. Temperature Resistance. High Hardness 82-84D. High Modulus. Excellent Mechanical Properties. Weather Resistance. Perfect for High Temperature Dental Molds.
Ultra Precision and Low Shrinkage eSUN High Temperature Resin contains acrylate Monomers as to reduce volume shrinkage during the photocuring process. Ultra precision and higher strength ensure print model's detail clearly display, delicate and perfect.
Fast Curing and Excellent Fluidity Rapid Resin was designed to significantly reduce printing time with its excellent fluidity. Low viscosity make it easy to separate the cured resin from the uncured one, strong adhesion of the model and easy to detach after forming.
High Temperature Resistance After fully cured for more than 10 minutes and bake in 150 oven for 30 minutes, the printed model has high thermal stability, not easy to brittle and crack. Widely used in medical, dental, automotive, consumer electronics and other models.
Safe and Secure Packaging Net Weight: 500g. Thickened aluminum bottle completely protected from light. Leak-proof bottle fully wrapped with a plastic bubble bag and exquisite designed package box make sure the resin stays in place where they belong.
What is High Temperature Resin?
eSUN High Temperature Resin has good resistance to high temperature, resistance to long-time Heating at 120 or Boiling at 100.
It has the characteristics of high hardness, high strength, high modulus and high precision, the printed models has excellent mechanical properties, weather resistance and temperature resistance.
Specifications of High Temperature Resin:
Net Weight: 500g
Material: Resin Monomer & Photo Initiator
2 Available Colours: Transparent, Pink
Recommended Printing Parameter:
Bottom Exposure Time: 20-30s
Normal Exposure Time: 4.5-5s
Print Thickness: 0.025-0.05mm
Number of Bottom Layers: 3-5
Warm Tips: The above are the exposure parameters on the LCD3.0 machine. Actual print parameter is based on the 3D printer model you use.
COLOUR: Red
MATERIAL: High Temperature
SIZE: 500ml
Or 6 Weekly Interest Free Payments From
£5.83
with
Recommend this product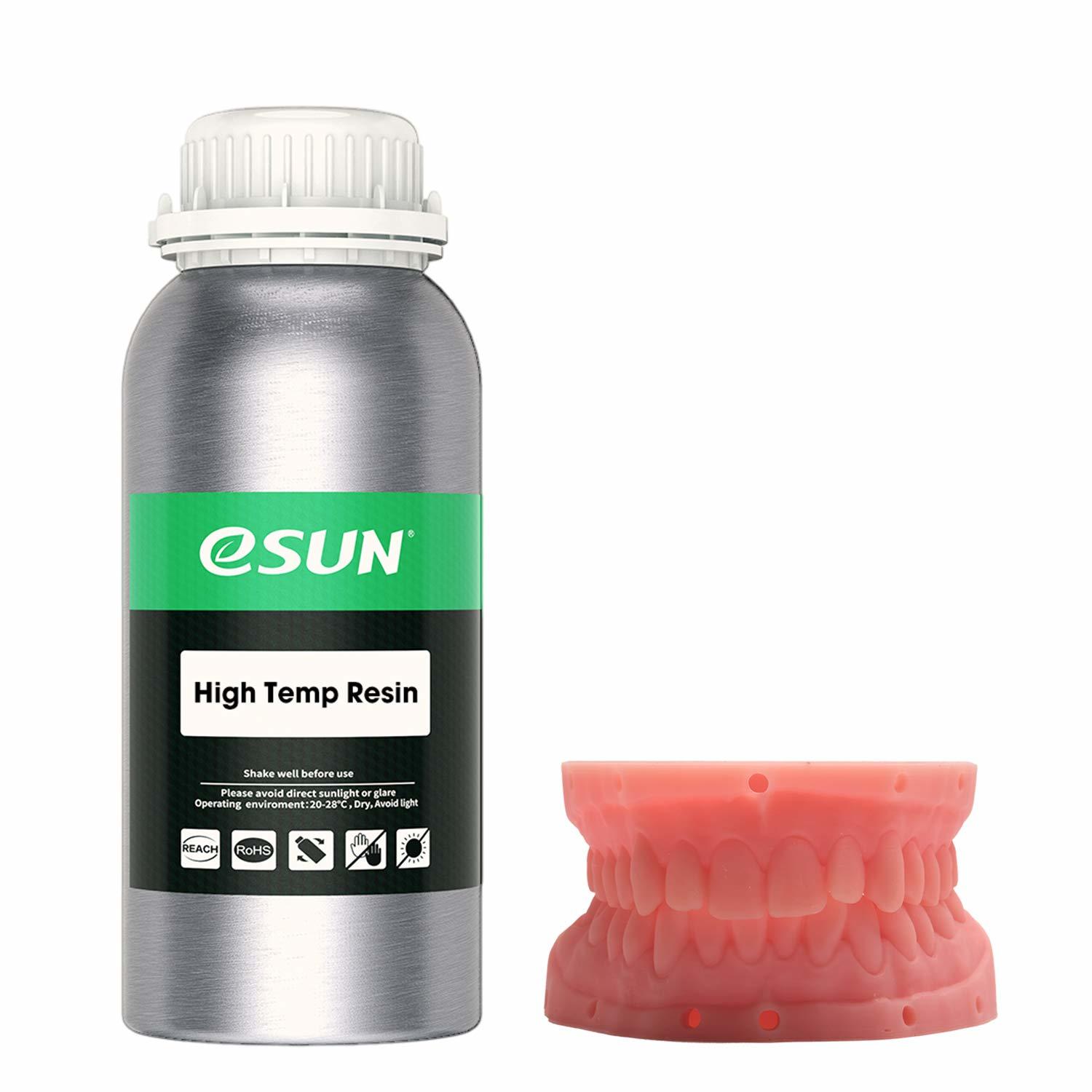 eSUN High Temp Red 3D Printer resin 405nm 500ml/0.5L