0 Reviews
raiting star
raiting star
raiting star
raiting star
raiting star
Be the first to review this product.
Elegoo Standard 3D Printer resin Yellow 405nm 1000ml/1L
Low Shrinkage and High Precision ELEGOO photo polymer resin is specially designed for reducing volume shrinkage during the Photo curing process ,which ensures the high precision of the print model with smooth finish.
Fast Curing and Great Stability ELEGOO 405nm Rapid Resin was designed to significantly reduce printing time with its excellent fluidity. Meanwhile its great stability and proper hardness guarantee a worry-free printing experience and successful printing.
Bright and Stunning Colours With high quality pigments and photo-initiators inside ELEGOO UV-Curing resin, the models printed with resin have a very pure and stunning colour effect just like an artwork.
Wide Applications Given the outstanding performances, ELEGOO standard resin is suitable for most DLP/LCD 3D printers. Works best with the LCD 3D Printers.
Safe and Secure Packaging Leak-proof bottle fully wrapped with a plastic bubble bag and exquisite designed package box make sure the resin stays in place where they belong

Usage Condition:
Shake up the bottle before use and avoid direct sunlight and dust.
Do not drink it and keep it out of the reach of children.
We suggest you wear a mask and gloves to avoid direct skin contact and maintain indoor ventilation.
If feel discomfort after you got skin contact, please see a doctor ASAP.
Once the model is complete, please wash it with high 95% degree or higher ethanol alcohol for 30 seconds at least.
If you dont use the resin please do not leave them in the resin tank over 48 hours.

Resin Specification
Hardness: 84 D; Shrinkage: 7.1 %
Viscosity (25?C): 150-200 mPa.s
Liquid Density: 1.100 g/cm?
Solid Density: 1.195 g/cm?
Flexure Strength: 59-70 Mpa
Extension Strength: 36-53 Mpa
Elongation at Break: 14.2 %
Capacity: 500g; Shelf Life: 1 year
Colour Option: Grey, White, Green, Black, Transparent, Yellow, Blue, and Red
Exposure Parameter: First layer exposure: 20-60s; Normal exposure: 5-15s
COLOUR: Yellow
MATERIAL: Standard
SIZE: 1000ml
Or 6 Weekly Interest Free Payments From
£5.33
with
Recommend this product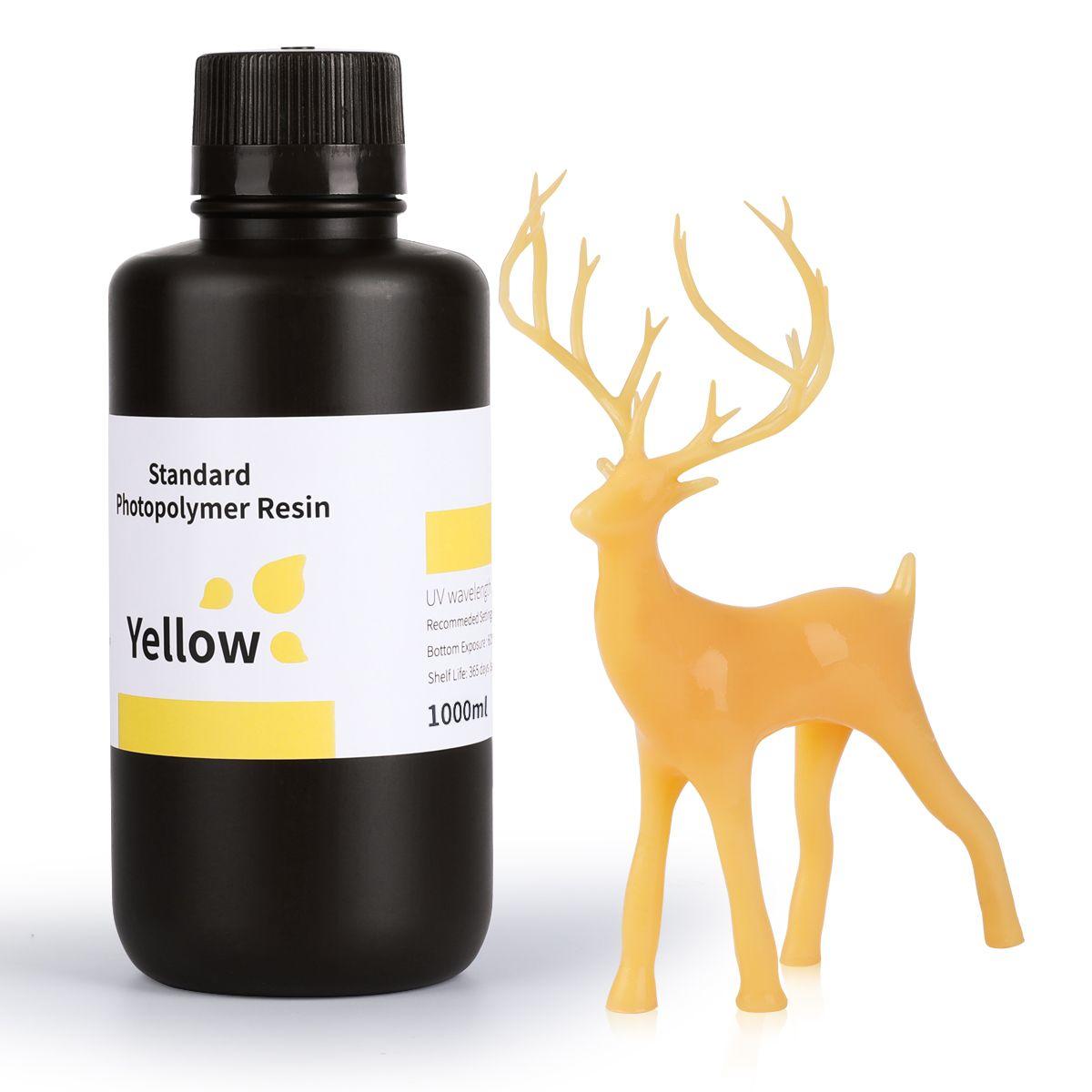 Elegoo Standard 3D Printer resin Yellow 405nm 1000ml/1L