0 Reviews
raiting star
raiting star
raiting star
raiting star
raiting star
Be the first to review this product.
*Factory Returned* Elegoo Water Washable Rapid 3D Printer resin Black 405nm 1000ml/1L
This Resin is returned, but Factory is sealed and weighs correctly. It is complete with a brush. we can not accept returns for this resin 
Low Shrinkage and High PrecisionELEGOO photopolymer resin are specially designed to reduce volume shrinkage during the Photocuring process, ensuring the print model's high precision with a smooth finish.
Fast Curing and Great StabilityELEGOO 405nm Rapid Resin was designed to reduce printing time with its excellent fluidity significantly. Meanwhile, its great stability and proper hardness guarantee a worry-free printing experience and successful printing.
Bright and Stunning Colors: With high-quality pigments and photo-initiators inside ELEGOO UV-Curing resin, the models printed with resin have a very pure and stunning colour effect, just like an artwork.
Wide ApplicationsGiven the outstanding performances, ELEGOO standard resin, is suitable for most DLP/LCD 3D printers. However, it works best with LCD 3D Printers.
Safe and Secure PackagingLeak-proof bottle fully wrapped with a plastic bubble bag and exquisitely designed package box make sure the resin stays in place where they belong.
Elegoo Water Washable Photopolymer Resin is compatible with most LCD 3D printers using the 405nm light source. It's specifically designed for LCD/LED light sources to achieve better printing quality. Instead of using IPA to clean up the prints, you can use tap water to wash the prints.
This product comes with four features:
Amazing Detail
No Expensive cleaners
No hazardous chemicals
Water washable. No detergent or alcohol is required and can clean any residual stains directly with water.
The water that washed the washable resin models can not be poured directly into the sewer or sink. Instead, to avoid environmental pollution, it should be placed under the sunlight to cure the remaining resin in the water before processing completely.
COLOUR: Black
MATERIAL: Water Washable
SIZE: 1000ml
Or 6 Weekly Interest Free Payments From
£4.17
with
Recommend this product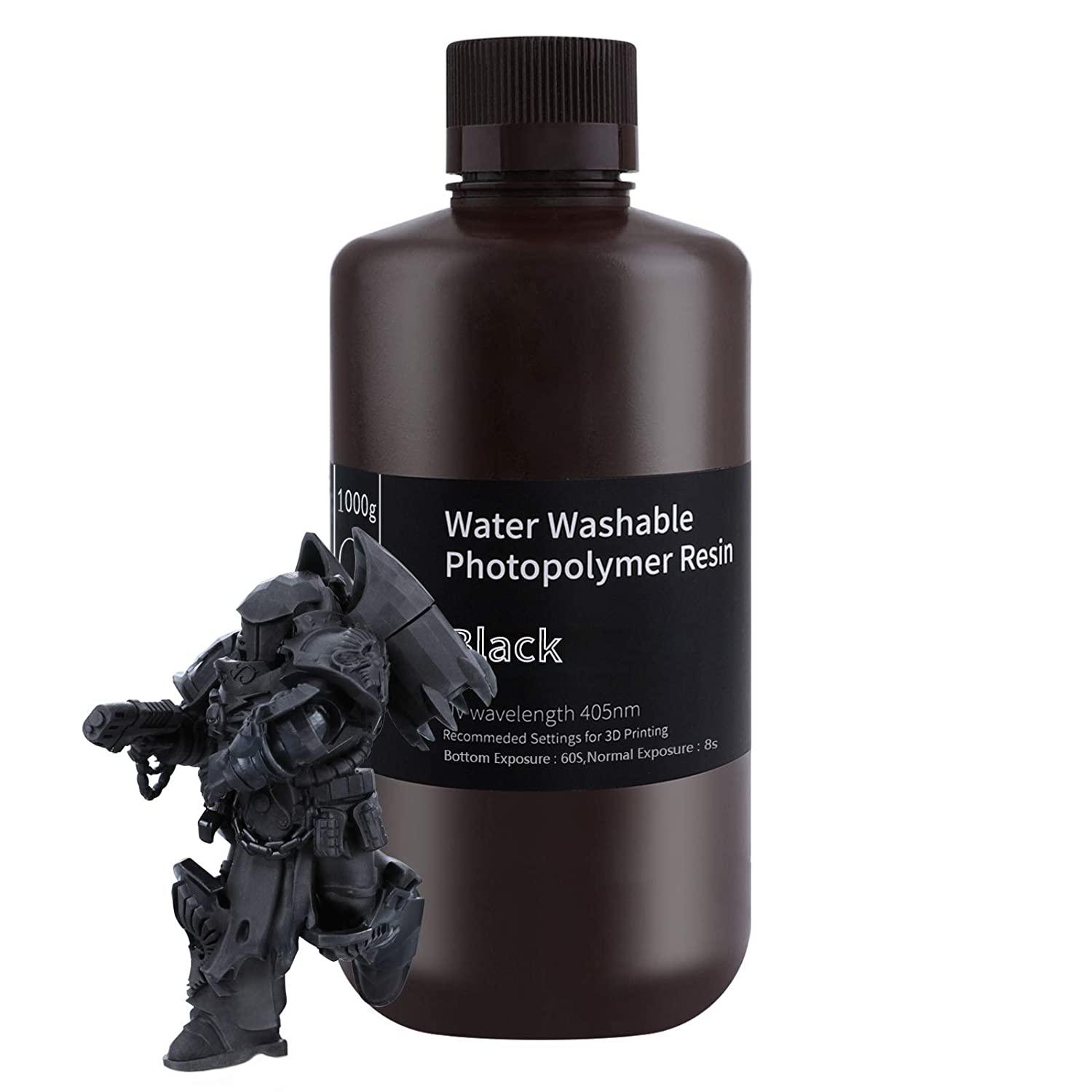 *Factory Returned* Elegoo Water Washable Rapid 3D Printer resin Black 405nm 1000ml/1L