1 Review
raiting star
raiting star
raiting star
raiting star
raiting star
Great resin and thats not even for the price this stuff is good prints right and havent had any problems with it so far all arived well packaged and prints with the same quality and detail you would expect from way more expensive resins thanks guys ill be buying more in the future
raiting star
raiting star
raiting star
raiting star
raiting star
Liquid Models 3D Standard White 3D Printer resin 405nm 1000ml/1L
---
Liquid Models 3D 12 x 1 Litre for £276
Mix and match any 12 Liquid models 3D 1000ml Resins that are part of the deal
---
There is a Bulk Buy offer available on Liquid models 3D Resin 1000ml/1 Litre bottles, Mix and Match colours. add the required number of bottles to your cart and the discount will be applied automatically. and you get 3D Print Monkey Loyalty points on the purchase too.
1 x 1 Litre Bottle ?28.00
6 x 1 Litre Bottles ?153 Including Free UK Mainland Delivery
12 x 1 Litre bottles ?275.90 Including Free UK Mainland Delivery
High quality

Liquid Models 3D resin is specially designed for high detail models, the surface finish is smooth and consistent.

Low Odour

Liquid Models 3D Resin has a lower than normal smell, meaning its more pleasant to work with.

Great Consistency

Liquid Models 3D resin manufacturing processes make sure that each batch of resin is as good as the previous, meaning that you can keep using the same settings bottle after bottle and get the same results.

Low Price

Liquid Models 3D resin want to provide the best quality and consistent product as the best prices

Packaging you can depend on

Leak and UV proof bottle, sealed in tough plastic, fully wrapped with a plastic bubble bag and strong box keeps the resin protected now matter how rough the delivery

Usage Condition:
Shake up the bottle before use and avoid direct sunlight and dust.
Do not drink it and keep it out of the reach of children.
We suggest you wear a mask and gloves to avoid direct skin contact and maintain good indoor ventilation. Use near an open window.
If you do get the resin in contact with your skin wash off with soap and water. If you feel any discomfort please see a doctor ASAP.
Once the model is complete, please wash it with high 95% degree or higher ethanol alcohol or isopropyl alcohol for 30 seconds or more.
Technical Specification:
Printing Temperature 21-25
Hardness(Shore D)88D
Density1.05 - 1.25 g/cm3
Viscosity200-400 MPa?s
Flexural modulus708.59?10%
Flexural strength 30.11 ?10%
Tensile strength33.78 ?10%
Tensile modulus520.96 ?10%
Maximum pulling force: 1404.3 N ?10%
Absorb wavelength: 355-410nm
Elongation at break8.77 % ?10%
Notched impact strength: 24.2 ?10%
COLOUR: White
MATERIAL: Standard
SIZE: 1000ml
Or 6 Weekly Interest Free Payments From
£4.67
with
Recommend this product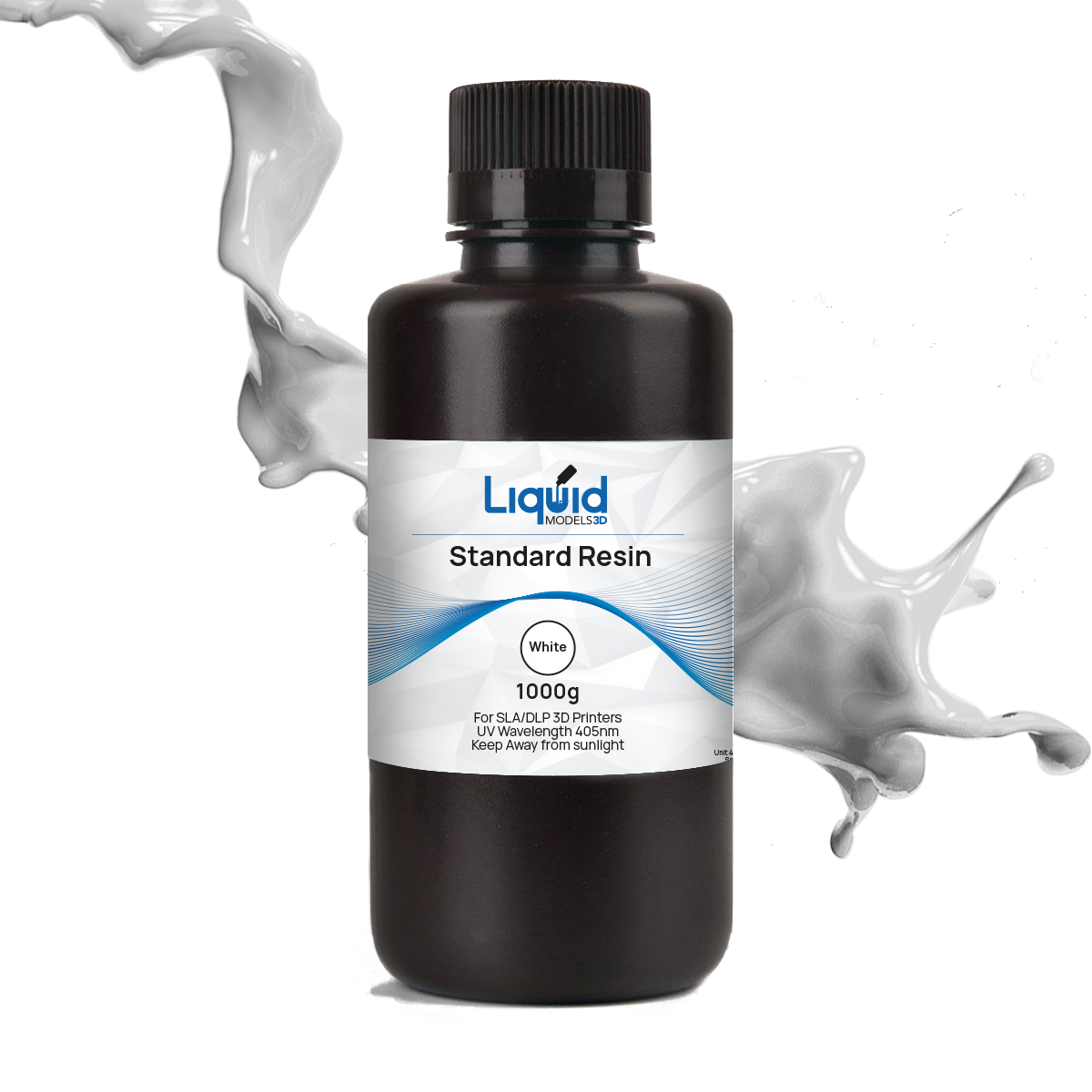 Liquid Models 3D Standard White 3D Printer resin 405nm 1000ml/1L