0 Reviews
raiting star
raiting star
raiting star
raiting star
raiting star
Be the first to review this product.
Monocure 3D Pro Deep Black 405nm 1250ml/1.25L
This is on Back Order - All deliveries should be sent out by Mid July
Monocure3D DEEP BLACK is the newest member of our PRO range. This resin is ideal for that intense, deep black look for your 3D printed models and parts. It is further enhanced by a smooth matte finish once post cured. With PRO DEEP BLACK, it is easy to achieve an opaque look with ultra-thin 2-3mm walls. Our development team have formulated this resin using our advanced in-house urethane base for increased durability and longevity. The chemists have discovered the perfect combination of specialised photo-initiators to ensure it can print without issue finally, a black resin, which actually looks like Black ABS plastic.
General Directions
Ensure the vat has been completely cleaned from all previous coloured resin.
On Monochrome MLSA 3D printers with short exposure times start by adding 1sec on top of the Rapid / Tuff normal layer times you would normally use.
Download one of our calibration models to help dial in the perfect base and normal exposure times
After the model has finished printing, clean the model in either Resinaway or IPA for no more that 5min (use a soft brush and/or use an ultrasonic cleaner). Try to get into all the smallest of crevices. Dry the model thoroughly with compressed air. If you see any trapped resin, follow up with a small squirt of ResinAway, soak 1min and then blow the excess off the model to ensure the surface is clean.
Our development team have created this unique material to remain rigid and hard, yet withstand high tensile pressure. The strength improves with the increased thickness of the printed part. For more delicate, thinner models, it is recommended to add FLEX100 to increase the flexibility if required.
Impact and Tensile Strength What is the difference?
To test the durability of a material when it is dropped or hit with a sudden force is done by performing an Impact Strength Test. It is essential to understand that this is very different from a Tensile Strength Test.
In an impact resistance test, the material is subjected to a force suddenly without any warning. When measuring the Tensile strength of a material, the pressure is applied to it gradually. Failure for both phenomena happens through entirely different mechanisms. In tensile testing, stress exceeds fracture/ultimate value, and in impact testing, the energy transferred is too much for the material to handle.
If you require a high impact resistant parts, you can mix our TUFF resin with our FLEX100 resin to increase the impact resistance properties as needed.
COLOUR: Black
MATERIAL: High Strength
SIZE: 1250ml
Or 6 Weekly Interest Free Payments From
£16.67
with
Recommend this product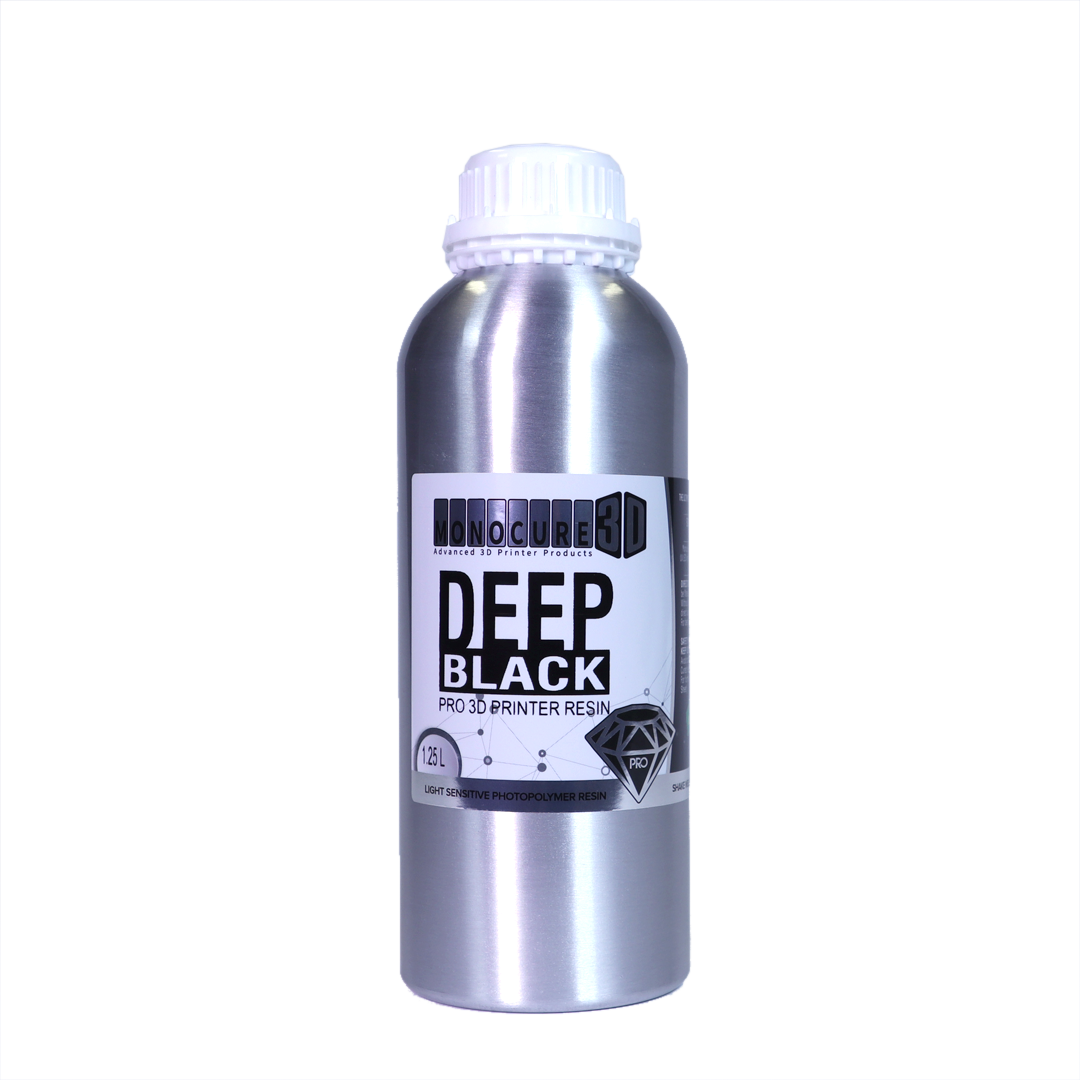 Monocure 3D Pro Deep Black 405nm 1250ml/1.25L