0 Reviews
raiting star
raiting star
raiting star
raiting star
raiting star
Be the first to review this product.
SUNLU ASA black Filament 1.75mm 3D Printer Filament 1kg
SUNLU ASA Filament SUNLU filament "ASA" is a kind of filament with weather resistance and UV resistance, which is more than ten times stronger than ABS.
1.75 Dimensional Accuracy /- 0.02mm SUNLU ASA 3D printer filament 1.75mm, ASA 1.75 dimensional accuracy /- 0.02mm. Printing smooth with strong interlayer adhesion.
Tangle Less & Clog-free & Bubble-Free Full Mechanical Winding and Strict Manual Examination, Which Guarantee the SUNLU ASA filaments tidy and easy to be fed.
High Compatibility SUNLU ASA Filament Works Perfectly with Most FDM 3D Printers on the Market, Such as Ender 3, CR 6, A 8, CR 10, Maker Bot, Mono price Flash Forge and etc.
Recommend Setting ASA Filament Extrusion/Nozzle Temperature 230-260, Bed 80-120. SUNLU ASA filament for prints that require weather resistance,UV resistance
SUNLU ASA 1.75mm 3D Printer Filament for 3D Printers will be available for your best 3D experience!
SUNLU 1.75MM ASA 3D filament Specifications:
Recommended Extrusion/Nozzle Temp: 230?C - 260?C (446?F - 500?F)
Heated Bed Temp: 80?C - 120?C(176?F - 320?F)
Filaments Diameter and Accuracy: 1.75 mm +/ 0.02 mm.
SUNLU Recommended Printing Conditions:
Cooling Fan: Turned OFF or 50%
Printing Speed: 50~100(mm/s)
Raft Separation Distance: 0.14(mm)
Retraction Distance: 1~3 mm
FAQ
Why can't the filaments stick to the hotbed easy?
1). Check the temperature setting before printing, PLA filament temperature about 190-220;
2). Check if the plate surface has been used for a long time, it is recommended to apply PVA glue;
3). If the first layer has poor adhesion, it is recommended to re-level the print substrate to reduce the distance between the nozzle and the surface plate;
Tips:
1).Please make 3D printer filament is to be stored in a sealed bag or box after each print to prevent moisture.
2).Be sure to insert the free end of the PLA filament into the holes to avoid being tangled for next time use.
3). If there is no print plan within a few days, retract the filament to protect the printer nozzle.
COLOUR: Black
DIAMETER: 1.75mm
MATERIAL: ASA
WEIGHTKG: 1
Or 6 Weekly Interest Free Payments From
£5.40
with
Recommend this product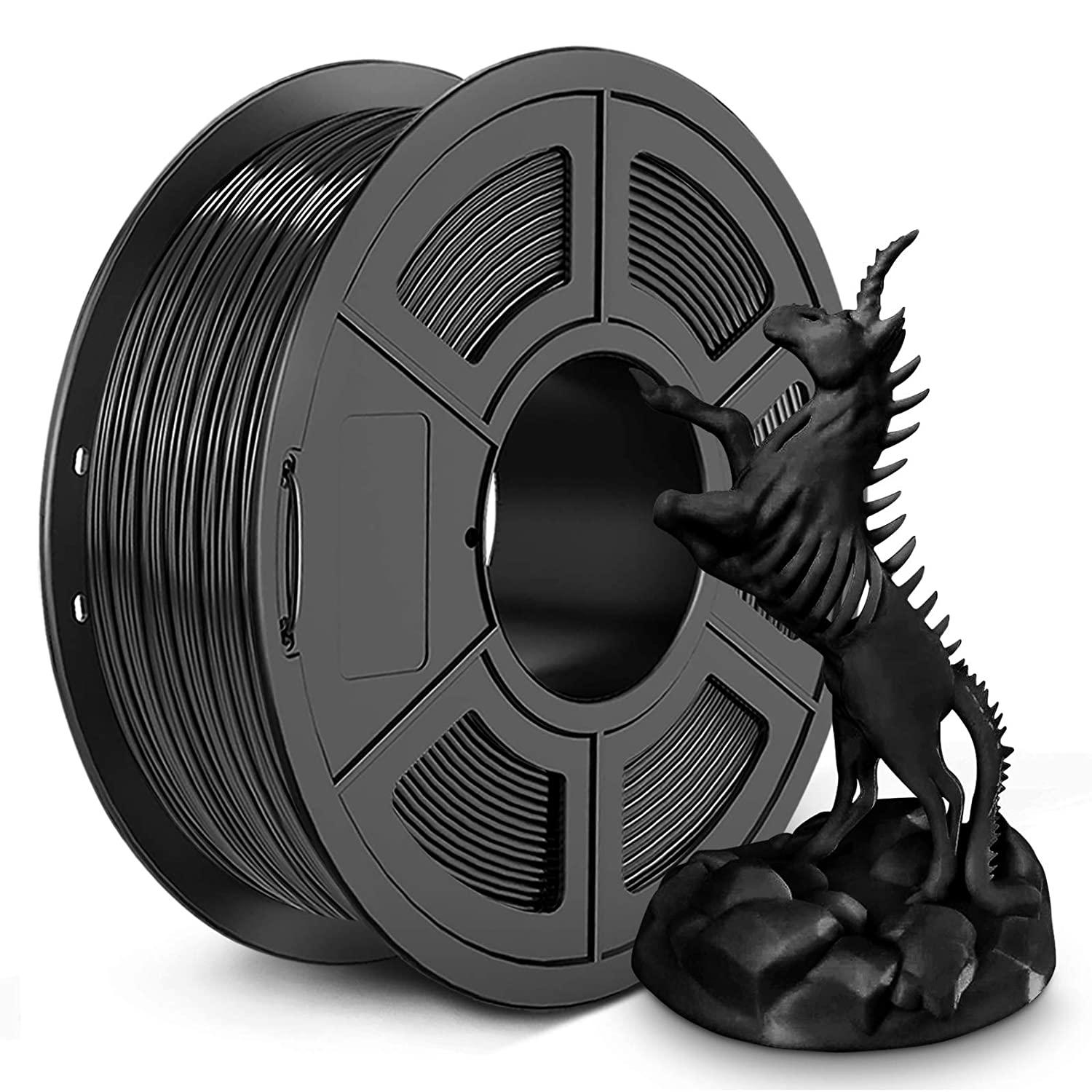 SUNLU ASA black Filament 1.75mm 3D Printer Filament 1kg