3D Printing Halloween Decorations
3D Printing Halloween Decorations
When crisp golden leaves begin to drift from their trees, it only means one thing. Autumn is well underway and Halloween is just around the corner. While the origins of this spooky holiday are long rooted in ancient Celtic traditions, the celebrations of today have come a long way since then.
One thing that has seen a surge in popularity in recent years is going all out when it comes to Halloween decorations. Pumpkins have been popping up on Instagram feeds everywhere, from artfully arranged mantelpieces to full front door makeovers in preparation for trick or treaters.
Halloween decorations are a great way to bring a cosy autumnal vibe to your home, and can also be used to set the scene for a spooktacular party. Pumpkins carved with intricate designs look great, but what if your knife skills aren't quite up to scratch? Here, we take a look at some easier (not to mention safer), Halloween crafts.
DIY Halloween Decorations With a Difference
In the golden age of technology, you no longer need to head to your local craft store to pick up the materials for DIY Halloween decorations. Nor do you need to spend hours scouring the web for them. All of the below Halloween decorations can be made quickly and easily from home with the help of a 3D printer.
Not just for technology pros, the 3D printer is becoming more and more popular among hobbyists who want customised products for their homes. There is no longer any need to spend a fortune or wait months for bespoke products to arrive. Those with 3D printers go from having an idea for a design to holding that product in their hand over the space of a few hours.
Contrary to popular belief, you don't need a degree in graphic design or IT to use one either. To make your own products at home, you can either use beginner-friendly design software to make something completely unique or download ready-made designs from sites such as Thingiverse which can be sent straight to the printer.
Here, we take a look at some of the most popular Halloween decorations for this year, and how you can easily replicate them at home with the use of a 3D printer.
Pumpkin Lanterns
A glowing Halloween pumpkin is par for the course on October 31, but faffing around with real-life fruits and vegetables is not as easy as it looks. Not to mention the fact that carving your own sure makes an almighty mess in the kitchen.
Creating your own customised pumpkins and lanterns is super simple with a 3D printer. Why not create chic pumpkin decorations that match the colours of your interior design, rather than opting for the classic orange? Just don't forget to use electric tea lights!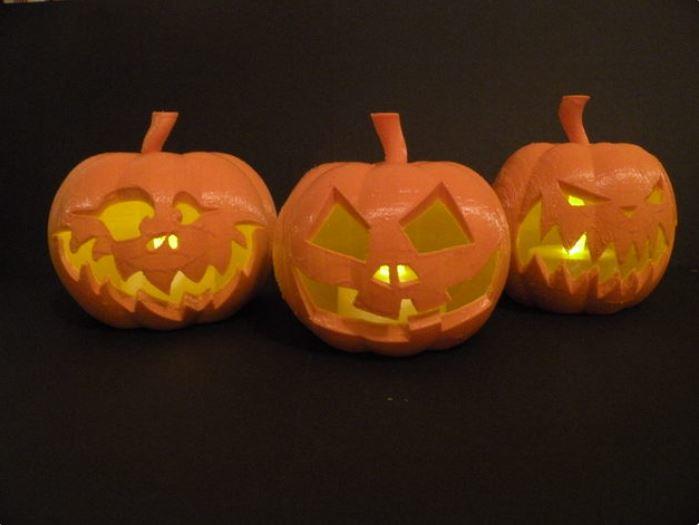 Halloween Pumpkins by fabricke
Treat Dispensers and Bowls
As any parent will know, for those with little ones, Halloween is only about one thing – and that's the sweet stuff. Whether you're hosting a spooky do, or just want to jazz up the bowl you use to hand out candy, there are loads of cool designs to try.
Check out this pumpkin-shaped dispenser that releases a handful of sweets when you turn the stem at the top. Alternatively, you can make bowls shaped like skulls, a Frankenstein's head or a coffin, or get creative with a design that's totally unique to you.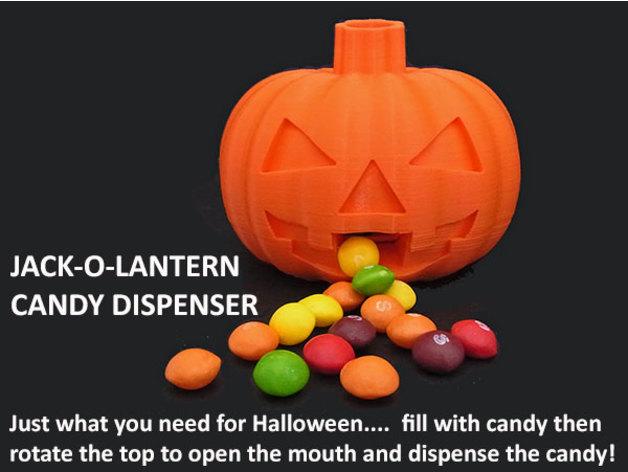 Jack-O-Lantern Candy Dispenser by muzz64
Halloween Coasters
A themed set of coasters is a subtle yet fun way to spice up your indoor space for Halloween. Of course, you can go for a classic pumpkin-shaped design, or try skulls, ghosts, or even bats. Coasters are really simple to design yourself, which means it's a great one to try if you're new to 3D printing. Try using woodfil PLA for a more sophisticated take on Halloween decorations.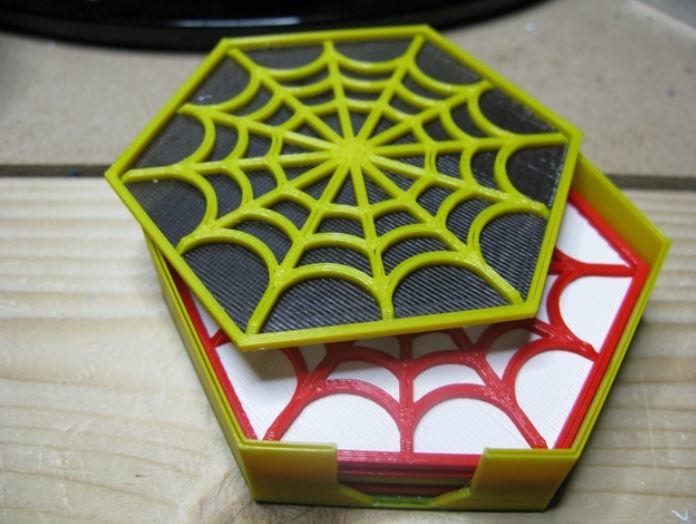 Spider's Web Coasters by MakeALot
Skulls, Hands, and Skeletons
There is nothing creepier than a hand clawing its way out from your table – it's a fantastic way to give guests an extra scare on fright night. You can find fun claw designs that can even hold their own pumpkin or a bowl of treats, or more general ornamental models. Equally, you can go all out by adding skulls and skeletons to really set the spooky mood!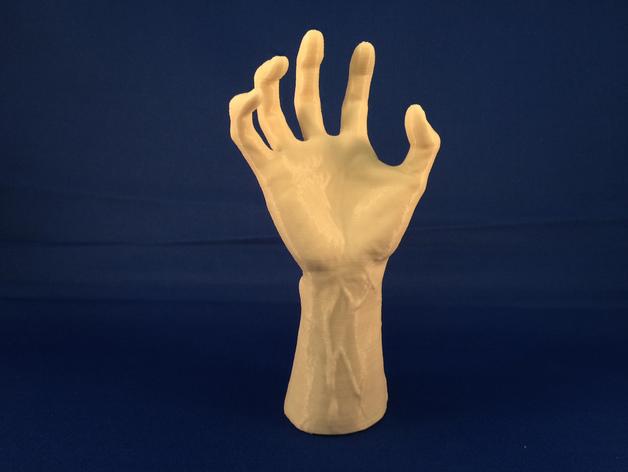 Creepy Reaching Hand by scampbell
3D Printing: How to Get Started
Nowhere near as expensive as it once was, it won't be long before 3D printers are just as commonplace in homes as their paper counterparts. All you need to get started is your own 3D printer – check out this blog on selecting the model that's right for you.
Once you've got the hang of making some of these cool Halloween decorations, you might find you want to start selling them as a side gig. You'll be amazed how quickly you can achieve a return on your investment, with the ability to offer unique and customised products to eager customers. Happy Halloween!
3D Printing Halloween Decorations Written by Amabel Bucks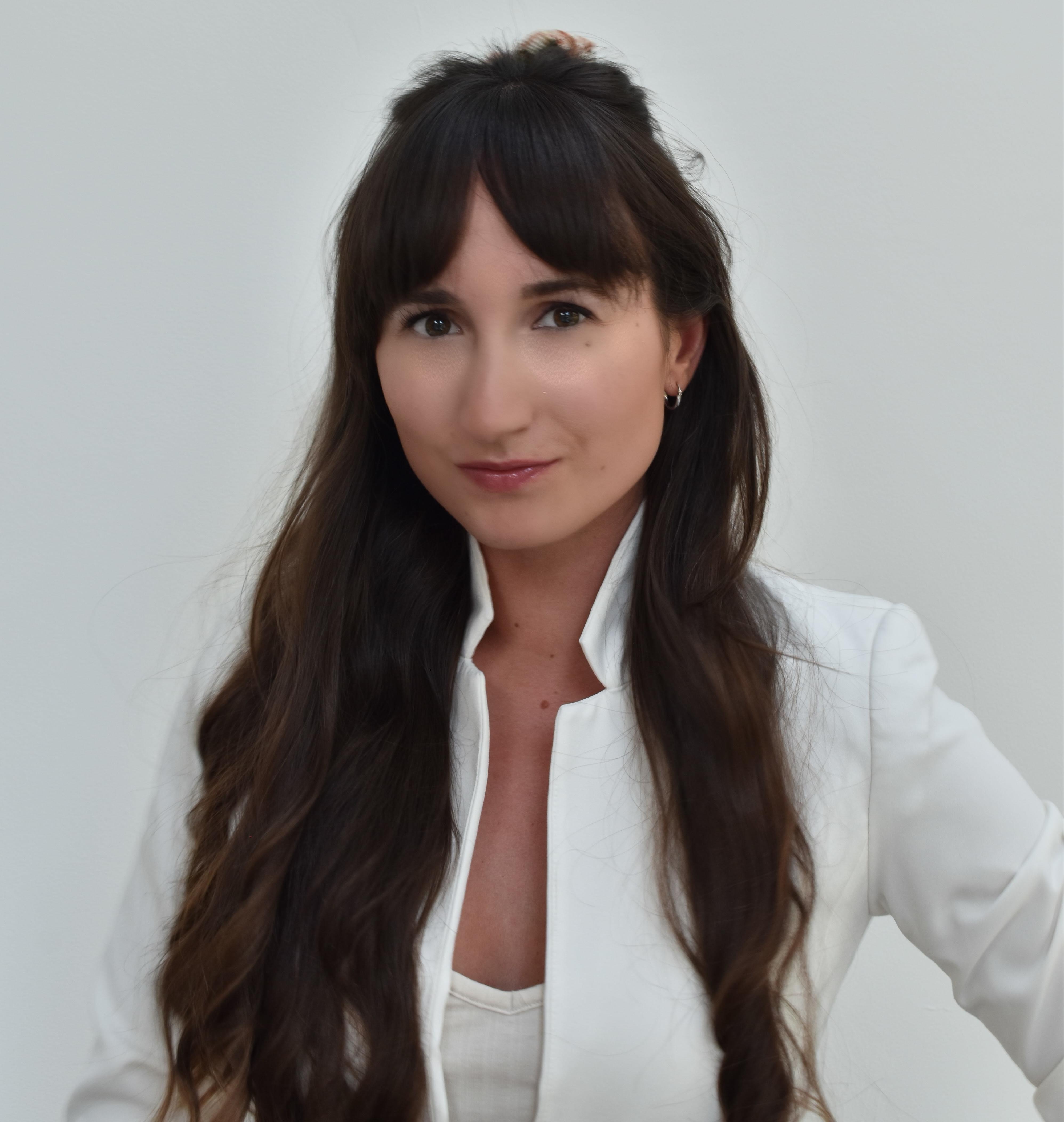 Amabel is an experienced freelance copywriter specialising in lifestyle and travel. She writes blogs and website content on behalf of a variety of businesses to inspire and engage their audience.